Orders are processed and packaged for dispatch on Mondays and Thursdays. This means at most a 72 hour delay from placing your order until it is dispatched. If you need your order urgently please advise me at checkout and I will do my best to oblige.
An email confirmation of dispatch will be sent. In the event of an unforeseen delay you will be contacted within 48 hours and made aware of the situation.
Please email any enquiry to lucy@lucyssoapkitchen.com. We aim to respond to all email enquiries within 24-48 hours. Direct email is faster than using the contact page here on the website.
We are constantly working to improve our earth friendly standards and towards a zero waste ethos. It is likely your order will arrive in a pre-used box or padded envelope. It may include plastic bubble wrap. I have not purchased this but rather than send it to landfill I am reusing it. Please join me on social media as when I need small boxes and padded envelopes I make a public request and offer to exchange your unwanted packaging for free soap. It's a win/win!
If I use a new box it is 100% recycled brown cardboard and is also recyclable. Please note if your order is a gift I will always use a new box.
The tissue wrap we use is 100% recycled and our parcel tape is not plastic but brown paper tape that is biodegradable.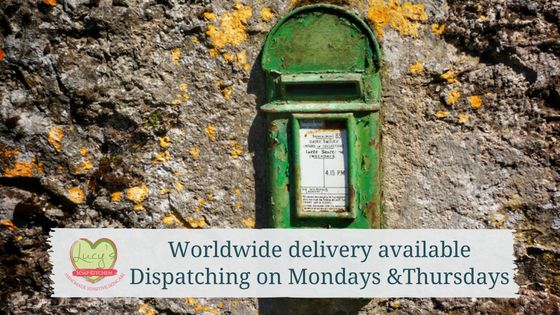 All delivery costs are given in Euro.
Parcels are sent using An Post's Packet and Parcel Post. An Post advise that nationwide delivery is usually 1-2 working days (although they do not guarantee this). At busier holiday times they advise 3-4 working days. To guarantee next day delivery their charge is €17. Please advise if you require this service.
We have simplified our postal costs and have introduced a 'flat fee'. They may seem 'high' but are at cost and we subsidise nearly every order. Postage costs will be added automatically at checkout;
Nationwide delivery (Republic of Ireland and Northern Ireland) is a flat rate of €5 with free postage on orders over €50. **please note if you are living in Northern Ireland website software needs you to specify your country as Ireland to avail of this lower postage rate**
UK delivery is a flat fee of €6.50 with free postage on orders over €50.
EU delivery is a flat fee of 7.50 with free postage on orders over €75.00.
Worldwide delivery (US, Australia, New Zealand) is a flat fee of €25.