Time to pucker up! Chocolate Lips, natural lip balm for dry & chapped lips
Posted on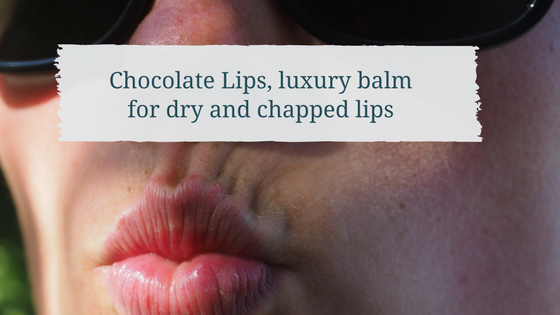 Both the cold weather and sunshine means drier skin and lips. Giving them added protection and nourishment is really essential all year round. If you find yourself licking your lips without realising to hydrate them or have redness and peeling skin on your lips, read on...
I'm making sure I have Chocolate Lips, Lip Balm, in my pocket wherever I go to protect and nourish my lips. Its a little sliding tin of lip smacking goodness! Have you tried it yet?
It gets its chocolate colour from raw unrefined organic Cacao which looks and smells just amazing with its earthy goodness. I've also used a virgin, organic and unrefined coconut oil that also retains its wonderful coconutiness and benefical properties ! This is blended with Jojoba, Organic Castor Oil, and unbleached Beeswax and a beautiful quality tocopherol (Vitamin E).
Importantly for very sensitive and reactive skin I have not added any essential oils to this luxurious lip balm. The lips are part of the oral mucosa and as such are extra sensitive. Anything in contact with the mucosa is transferred much quicker into the bloodstream. This means any sensitivities or allergies will have an increased possibilty of manifesting themselves. (Incidentally, this is why Lip Balms need a separate, different cosmetic safety assessment to a skin balm. The precentages of ingredients permitted in the formula are adjusted.)
I love the subtle aroma of the raw cacao and coconut but it will never be a strong as a synthetic fragrance or flavour oil. So if you are wanting a 'wham, bham, knock 'em dead' aroma then this probably isnt the product for you.
The raw cacao also gives a natural, fabulous, lip tint that I don't need lipstick with it. You can see the rich colour in this super short slow mo pouring video.
Were you watching this licking your lips, realising just how chapped, red and sore they are? Or were you (gulp - even worse) picking at that dry skin peeling on your lips that you just can't leave alone? (It happens to the best of us......)
If the thought of a subtle chocolate and coconut aroma, a light glossy sheen from the organic castor oil AND a natural tint sounds all too delicious, then you'll find Chocolate Lips here!
Yes, I am applying it now.....
(p.s I've been experimenting just a little with pinterest and here's an image if you fancy pinning it?!)