Your Faq's answered - what should I expect from the Cider & Ginger Solid Shampoo Bar?
Posted on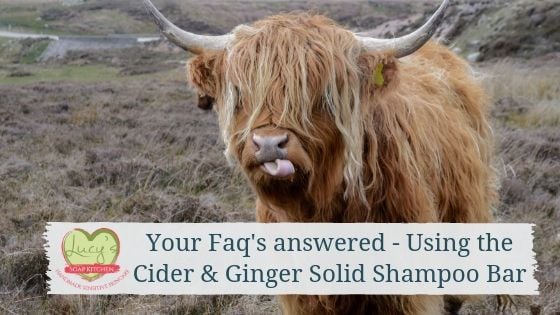 Since the Cider & Ginger solid shampoo bar was released in 2016 it's been my bestselling product. Currently the strong desire for plastic free cosmetics and less plastic bottles in the shower is increasing demand. You might have lots of questions though about what to expect when using the cider & ginger shampoo bar. Read on for a list of frequently asked questions, answered with helpful feedback from customers...
Please note that this collection of customer testimonials have been collected over a 2 year period from medium to long term users of the cider & ginger solid shampoo bar only. If you have any comments or feedback please don't hesitate to contact me so I can add it to the list!
Which hair types suit the Cider & Ginger shampoo bar?
"...I have very thick mid length hair, it's a brown/blonde color and would tend to get greasy at the roots and need washing every second day with shop bought shampoo...I would also say it stays cleaner for longer I now only wash it every four days, and it looks fine!" Anne
"My hair is fine and thin, dries out easily and I blow dry it after most washes." Jo
"
I have long, layered, wavy hair and swim 3 times a week. I've been using the shampoo bar for over 2 years and my hairdresser says my hair is in very good condition. I hardly ever use conditioner. I think the shampoo bar leaves a slight residue which I like as it adds body to it, like a salt spray. I don't want sleek and smooth, I like a bit of texture..." Rozanne
"I have thick, wavy hair with a mind of it's own, it's also 80% grey...even though my hair is 'difficult' the bar leaves it feeling lovely" Helen
Will my hair have a transition period of adjustment when I first start using the shampoo bar?
Yes, most customers report there is a transition period of at least 4 continuous washes and initially there may be more tangles.
"...I have added in the cold rinse with apple cider vinegar as you recommend and this has improved the tangles no end. (Without the cold rinse I had some serious tangles on my first adventure into solid shampoo). The tangles were gone once I bought a bottle of apple cider vinegar..." Anne
"I didn't feel there was any transition period at all, it could be due to the fact I'm washing my hair daily anyway. The only thing I noticed was brushing my hair after washing was a lot more difficult. After 2-3 weeks this stopped and now it brushes without issues." Yvonne
"I think there was a transition period of about 2 weeks, where my hair was a little greasy between washing, but after that I started a vinegar and water rinseand that made my hair lovely and soft and staying so between washes." Jo
How many washes will I get from the cider & ginger shampoo bar?
"... I'm just coming to the end of my soap bar. That's 27 weeks @ 2 washes a week (I have short hair). Ive solely used the shampoo bar and apple cider vinegar...I even brought the bar and vinegar into the hairdressers with me!" Rebecca
"...I have short but very thick hair and get about 8 weeks from the shampoo bar. I wash my hair about once per week as it will last that long now before it gets greasy!...I started to use the shampoo bars on my 2 kids too, it's absolutely fabulous..." Isabell
" I have thick short/medium length hair, I am using about one bar per month...I generally wash my hair everyday" Helen
"I wash my thick,wavy hair daily and get round 2 months per bar." Yvonne
"I wash my hair about 3 times per week (although if I do it everyday it doesn't dry out like it used to) and a bar lasts me 4-5 months. I have fine hair and a short bob." Jo
More customer tips on what to expect when using your shampoo bar
"...I found is heat styling is a big no no with the solid cider shampoo, once you apply a ghd/curling iron to the hair it just looks greasy and doesn't style well at all. This not a regular issue for me as I mostly have my hair in a ponytail and only use ghd for special event" Anne
"All I do is rub the bar directly on to my har but only on the scalp and let the suds wash through the length of my hair. I have noticed that washing it out straight away gives better results for me, rather than leaving it for a while." Yvonne
"My advice is to stick with it and travel with it. When I occasionally use someone else's shampoo I find it stays in my hair for days and I much prefer the natural balance my hair has using the cider & ginger solid shampoo bar. Don't be afraid to get the bar wet and just rub it straight onto your head " Jo
"With the solid cider shampoo bar followed by the cold rinse with apple cider vinegar, my hair is easy to manage, I think it's important not to expect the same feeling to your hair as you had with shop shampoo , my hair looks clean/glossy but it feels a bit more course kind of like a horses mane , when I wash it on day one, then I find the second and third day it is softer" Anne
"I tried lots of different shampoos when I stopped colouring my hair a couple of years ago before finding one I liked and thought I would have to compromise with the bar. Definitely not! My hair feels as good if not better and it is one less plastic bottle I need. I do need to get a draining soap dish though" Helen