This is Me! - Behind The Scenes in Lucy's Soap Kitchen
Posted on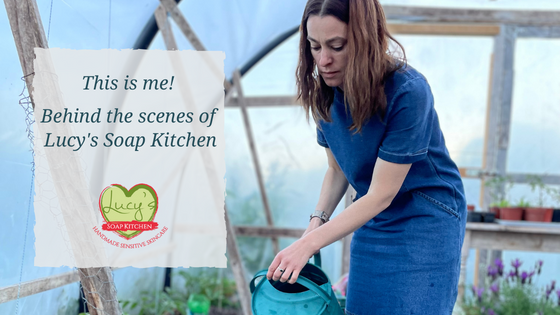 It's the summer of 2021. My favourite hours are spent like this, pottering in the kitchen garden, with the girls chattering away to me. Emmy - who is almost eight, a wise old soul and my second in command in the soap studio, took this photo of me.
Flashback to 2019 and The Leitrim Design House ran a Meet The Maker video series. They featured local makers and creatives from Co. Leitrim. Laura and Padraig came to film me on a damp autumnal November day. I remember that we had the stove lit! I hope the 'behind the scenes' video below, of my attic studio here in rural Bornacoola, will help to introduce me. My hair is much longer now and I've more laughter lines, but my favourite Lucy & Yak navy dungarees are going strong...
Before you watch it, here are some facts that will help give you deeper insight into me, the creative maker behind the hand crafted plantbased products here at Lucy's Soap Kitchen.
My name is Lucinda - Lucy only really became 'me' 15 years ago. I was doing volunteer work in Co. Wicklow that brought me into contact with an international network of individuals. Lucy is so much easier for people to say & remember! (No,it's not Jacinta, it's Loo-sin-der...)
I began Lucy's Soap Kitchen in March 2013. I realised quickly that personally I couldn't be a good mama to small children and do lots of craft fairs. I started this website and my creative online shop. I've never regretted it as I can work the hours that suit us. If necessary, I can even work in the evenings, once my girls are in bed. This has stood me in good stead, never more so than during the advent of 2020 , the challenges of Covid 19 and the necessity of online sales for consumers and sellers.
My brain can get very overloaded and is 'sensory sensitive' (I am really struggling with the onslaught of instagram reels!). I cannot multitask.
I do all my website design and content myself. I have found it practically important to have full and immediate creative control over my website updates. I recommend the Create platform to other makers. I find it user friendly, reasonably priced, with quick online support when needed.
If I could only pick one Lucy's Soap Kitchen product to take on a desert island it would be Soothe. I love it. I love its 'fluffy' light yet moisturising feel, its aroma from the essential oil blend. I especially love the lavender plant infused oils which are excellent for sore elbows, knees and shoulders. Also good for the element chapped skin of girls that like to adventure!
I have Hypermobility EDS III. This means my joints are very 'slidey' (a highly technical term you will agree!) and are 'hyper-mobile'. I have mild symptoms, currently managed well mostly due to mscle strengthening pilates). My joints sometimes sub-luxate. This means they slide out of place (like a dislocation, but they slide back in again immediately). This was one of the reasons I started my own business. I had an intense hypermobility flare following pregnancy and birth of my eldest daughter. This led to a diagnosis, for which I am very grateful. It made sense of childhood symptoms and challenges.
The joints that sometimes sub-luxate are my thumbs, knees and shoulders, (especially my left for some reason). Occasionally my ankles, thankfully not too often. After a sub-luxation the joint is really sore & tender. Until the internal inflammation reduces, I massage the area with Soothe (also a hot water bottle is an amazing quick fix at times)
Pre-childeren I travelled as far as Papua New Guinea but post children I went almost 10 years without a passport. My next international destinations, post COVID & with children, are Rome and Norway (you know who you are!!).
I homeschooled my eldest daughter for 3.5 academic years and my youngest 1.5 years. I loved it, its where my heart is, and as a parent I connect with the 'wild and free' ethos. To see them running around outside, covered in mud, nothing on their feet and their hair ragged, makes my heart sing

So this is me...


Lucy x