6 Reasons To Choose Lucy's Soap Kitchen, Handmade Sensitive Skincare
Posted on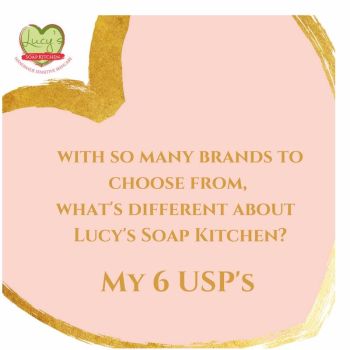 There are heaps of natural skincare businesses springing up in Ireland, UK and Europe at the moment. It's a huge area of growth as more and more customers are thinking about what they put on their skin. How do you choose which brand is for you? The choice is overwhelming, even for me.
So you may be wondering what's special, different and unique about Lucy's Soap Kitchen, Handmade Sensitive Skincare? Well here you go...

My natural skincare products are preservative free
Did you know many people are sensitive to cosmetic preservatives? Myself included. So I want my skincare to be preservative free. In order to do this safely I must choose not to use water in my products, they are anhydrous. (Water introduces bacteria and products including it must be preserved for safe public sale and use). I therefore also choose not to add ingredients (such as hyaluronic acid, a current 'buzz' ingredient) that require blending with water and thus preserving. This means the products will feel richer but as a little goes a long way they give good value. I know I am not alone in preferring to have a truly 100 % natural (by this I mean no synthetic chemical additions or an ingredient 'naturally derived' but so manipulated that it really is stretching it to call it natural). And I gladly prefer to have a richer product that I simply need to use less of on mine and my children's skin. Our skin loves it.
My products are nut free
Many nut oils have wonderful properties are are included in most natural skincare products. Lovely to use as long as you are not allergic to them. With allergies and severe sensitivities on the rise what you put on your skin can be as important as what you ingest. With nut anaphylaxsis a big part of our lives being a nut free house is vital for us. So there are no nut oils in my soap or skincare (a little note - I do use Shea - you can read Is Shea Butter a nut? here)
Lucy's Soap Kitchen is a small family buisness run by me, a full time mum, from my home
I am a small scale 'Indie Skincare' maker but, more importantly, I'm a full time mum of 2 small children. I've always worked from my home kitchen and its big wooden table. After 3.5 years I need my own dedicated work space so we are almost finished a loft conversion. The Soap Loft! This will keep me working from home. In reality what do these choices this mean for my business?
For me it means choosing to remain a small business as scaling up production in my Soap Loft will have it's size limitations. Which also means I am choosing not to wholesale my product throughout Ireland or Internationally. (There are just couple of local Leitrim and Longford exceptions to this, incuding the gorgeous Leitrim Design House, who stock a good range of our natural skincare products) It means you won't see me at Trade fairs or Showcase as I can't make promises to fulfill large orders and growing stockists. In all honesty I can't stay away from my girls the 4/5 days these big shows need. My eldest who is 6 has life threatening anaphylaxsis. We've had 5 hospital dashes this year already. Nothing soap related is as important as making sure I'm there to give her the immediate medication she needs. Our plans are to begin homeschooling in the future so my situation of remaining a 'work at home mum' won't change.
But please don't misunderstand my decision not to try and take over the soap world as my not being serious about my natural skincare business. I'm not just playing around with a 'hobby'. Each product comes to you with heaps of passion, hardwork, blood, sweat and tears (well you don't get the blood, sweat and tears in a jar -I'm just piling them up at home!)
So when you purchase one of my Lucy's Soap Kitchen sensitive skincare products, you make a difference to me. You are truly supporting a handmade, local, small family business.
Selling direct ensures my skincare reaches you with 'just made freshness'
Selling direct ensures I have control over how my product is stored prior to sale and the jar you get is in optimum condition and as freshly made as possible (ie. it hasn't been sat on a shelf for 6 months). An important factor, in view of my desire to have preservative free products.
Selling direct allows me to keep my prices fair and affordable
I'm in that tricky bracket of 'affordble skincare'. All of the business mentors will tell you never to go there. Artisan skincare makers are always advised to go for the luxury market. 'Affordable skincare' is not profitable. Why you may ask? It's fairly impossible to sell to shops and keep your product prices under a certain price point. There needs to be enough profit to make it viable for the retailer which doesn't leave enough profit for the artisan skincare maker to be viable unless they increase their prices significantly. But heres's my take on it, based on my own experiences. I have sensitive skin and both my daughters do. Especially my 2.5 year old, who as you probably know by now, has chronic eczema. The amount of product I get through maintaining her skin is shocking. I couldn't afford it if I wasn't making it myself. One of my core values is to keep my prices within reach for these people. People like me, that don't have a lot of expendable income but need a natural, skin sensitive product that isn't a weekly luxury but a daily staple.
Our Eczema and Sensitive Skincare products are formulated based on trial and error with my own family
Experience is something you can't buy or teach fully. Experiencing severe allergies and eczema first hand gives me alot of insight and helps me truly understand the issues involved with treating both long term. I don't make any wild claims of curing the condition (see the bottom section of this link for my answer to Will your products cure my childs eczema?) but I use and share what helps us live as 'normal' a life as possible.
I hope this little run down of what makes me different is helpful and is a little insight to some of the values that are important to me personally. Feel free to ask me anything below or you can always contact me direct.
Lucy xx